October 18, 2004
Doors @ 7:30 PM
Show @ 8:00 PM
$7-10 Sliding Donation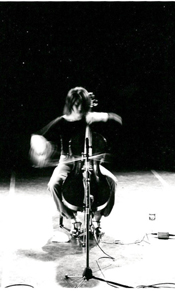 Okkyang Lee




Location
The Jazz House is located at 3192 Adeline Street in Berkeley, a half block southwest of the Ashby BART. (Please note there is an incorrect Adeline Street in Oakland.)
The Jazz House is a small, non-descript warehouse located next to the police station where Martin Luther King and Adeline Street meet. A blue light and a peculiar "Ant" sign reside above the entrance.



About Okkyung Lee:
New York-based Korean cellist/composer Okkyung Lee has spent last four years developing her own voice in improvising. As a classically trained cellist, she aims to expand the traditional role of cello by experimenting
with extended techniques, sounds and noise incorporating contemporary classical music, Korean traditional music and jazz.
Okkyung has performed and/or worked with world renowned artists such as Derek Bailey, Anthony Coleman, Mark Dresser, Janene Higgins, Vijay Iyer, Eyvind Kang, Alonzo King, Alan Licht, Christian Marclay, Raz Mesinai, Thurston Moore, Ikue Mori, Lawrence D. ÒButchÓ Morris, Jim O'Rourke, Marc Ribot, Marina Rosenfeld, Zeena Parkins and John Zorn to name a few.
In addition to frequent solo performances and leading her own ensembles, she is involved with TOT Trio with percussionist Tim Barnes and
turntablist Toshio Kajiwar; an improvisational duo NoNo Twins with dancer/choreographer
Heather Kravas; Vijay Iyer and Mike Ladd's In What Language Project; Ted Reichman Ensemble. She is also co-curator of annual Night of the Ravished Limbs Improvised Music Festival at Barb's in Brooklyn with saxophonist
Micha'l Attias.
Her recent notable appearances include 2003 la Biennale di Venezia in Italy, 2004 Taktlos Festival Der Zeitgenšssisch VisionŠren Musik in ZŸrich and Basel, Switzerland and Time Based Arts Festival in Portland, Oregon.
She holds dual bachelor's degrees in Film Scoring/Contemporary Writing & Production from Berklee College of Music, and master's degree in Contemporary Improvisation from New England Conservatory of Music.
---