October 15, 2004
Doors @ 7:30 PM
Show @ 8:00 PM
$8-15 Sliding Donation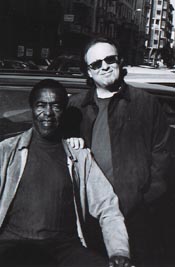 Sonny Simmons, Michael Marcus



Location
The Jazz House is located at 3192 Adeline Street in Berkeley, a half block southwest of the Ashby BART. (Please note there is an incorrect Adeline Street in Oakland.)
The Jazz House is a small, non-descript warehouse located next to the police station where Martin Luther King and Adeline Street meet. A blue light and a peculiar "Ant" sign reside above the entrance.



Members of the Cosmosamatics:
Sonny Simmons: Alto Sax, English Horn
Michael Marcus: tenor sac, saxello, clarinet
Freddie Williams: AMS, bass
Art Lewis: drums
---
About the Cosmosamatics:
"The Cosmosamatics" is an all-star group with legendary Altoist / English horn player Sonny Simmons and multi-reed specialist
Michael Marcus holding down the front line. The group was founded by Sonny Simmons in
2000. Their years of cooperation and mutual appreciation lead to the "Cosmosamatics" concept you can hear now.

The Cosmosamatics tours & performances include their tribute to the music of Charlie Parker and Eric Dolphy, along with their original
compositions-music for the 21st century!!
Since the bands conception in 2000, they have performed throughout Europe and parts of the US, at festivals and clubs to sold-out audiences with enthusiastic response.

The bass chair has included: William Parker, Curtis Lundy, Dominic Duval, Chris Sullivan, Tarus Mateen, Gildas Scourarnec, Emil Ram and most recently Masa Kamaguchi.
On drums, most regularly, Jay Rosen has kept the groove, but also Andrew Cyrille, Reggie Nicholson, Larry Hancock, & Art Lewis have worked with the Cosmosamatics.

Saxophonist, James Carter, made a guest appearance on Cosmosamatics I on bass
sax.

The band has released 3 CDs on the American "Boxholder Records" label and their concert at the Banlieues Bleues Jazz Festival in March, 2003 was released on "Bleu Regard Records" (France) throughout Europe, with special
guest "Andrew Cyrille"

Their first release on Black Saint/SoulNote Label "Magnitudes" (Italy), recorded in Milan at the end of their European tour in March 2003,
will be released in August, 2004 . In September 2004 , The Cosmosamatics will record their 6th
release for the Polish Jazz label "Nottwo Records" which will include some "Bird" classics along with original material (some live).
---
What They're Saying:
"The Cosmosamatics are one of the most compelling groups on today's jazz scene"
-- ALL ABOUT JAZZ

"A free jazz supergroup"
-- BBC MUSIC -U.K.

"The band was absolutely stunning"
-- Cadence Magazine

"As far as groups go, this may be the best semi-permanent lineup since Other Dimensions in Music"
-- New York Press
---