October 6, 2004
Doors @ 7:30 PM
Two Show @ 8 & 10PM
Tickets: $15
Advanced tickets are being sold for this show. Tickets are available at The Jazz House any night prior to the event in which there is a show. Also, tickets may be reserved via email. All tickets must be paid for by cash. If reserving via email, you will receive a confirmation. Please note for which show you are reserving seats.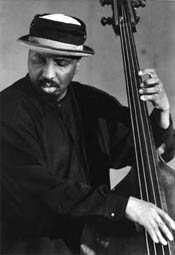 William Parker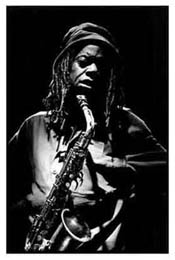 Jameel Moondoc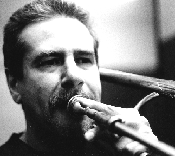 Steve Swell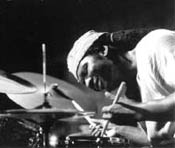 Hamid Drake




Location
The Jazz House is located at 3192 Adeline Street in Berkeley, a half block southwest of the Ashby BART. (Please note there is an incorrect Adeline Street in Oakland.)
The Jazz House is a small, non-descript warehouse located next to the police station where Martin Luther King and Adeline Street meet. A blue light and a peculiar "Ant" sign reside above the entrance.



About William Parker:
"William Parker has emerged as the most important leader of the current avant-garde scene in jazz." - Boston Globe
He is working in many of the more important groups in this genre, some of the most prestigious being his own, i.e. The Curtis Mayfield Project, Little Huey Creative Orchestra, In Order to Survive, William Parker's Quartet and other groups. Mr. Parker is one of the most important composers in our time period, he is also a poet whose words are beginning to be heard in various media: in print, in song and in his theatre piece, "Music and the Shadow People."
In '95 the Village Voice characterized William Parker as "the most consistently brilliant free jazz bassist of all time." However from the beginning of his career Mr. Parker has commanded a unique degree of respect from fellow musicians. In 1972 at the age of 20, Parker quickly became the bass player of choice among his peers. Within a short time he was asked to play with older, established musicians such as Ed Blackwell, Don Cherry, Bill Dixon, Milford Graves, Billy Higgins, Sunny Murray, etc. In 1980 he became a member of the Cecil Taylor Unit, in which he played a prominent role for over a decade.
Mr. Parker has released over 20 albums under his leadership. Not surprisingly, most of his albums have hit #1 on the CMJ charts. In 1995 after years of obscurity as a leader, he released Flowers Grow In My Room, on the Centering label. This was the first documentation of the Little Huey Creative Music Orchestra. This CD hit #1 on the CMJ charts and The Little Huey began to travel. They have performed in the Verona Jazz Festival and Banlieues Bleues among others. William Parker's new Quartet has hit with rave reviews for both albums "O'Neals Porch" and "Raining on the Moon."
These releases and their success highlight William Parker as an outstanding composer and band leader. From the beginning of his musical career, William Parker has been prolific; composing music for almost every group with whom he has performed. His compositional skills span a range including operas, oratorios, ballets, film scores, and soliloquies for solo instruments. He has also successfully explored diverse concepts in instrumentation for large and small ensembles. William Parker is a poet, with three volumes published thus far: "Music Is," "Document Humanum," and "The Shadow People."
---
About Jameel Moondoc:


---
About Steve Swell:
In an effort to find his own voice on his instrument and to learn to write and arrange in a style of his own, he has sought out, performed and recorded with many of the finest composers and improvisors in the city. He has recorded and toured with such diverse jazz personalities as mainstreamers Lionel Hampton and Buddy Rich, to so-called outsiders like Anthony Braxton and Jemeel Moondoc. Swell has 10 recordings as a leader or co-leader and is a featured artist on more than sixty other releases.

Swell first came to public attention performing with Makanda Ken McIntyre in the multi-instrumentalist's concert at Carnegie Recital Hall in 1985 of which Herb Boyd of The Amsterdam News wrote, "Swell possesses a foreceful, but mature sound...with a vibrant syncopation..." Later, Swell came to international attention while touring in Europe and recording with alto saxophonist Tim Berne and his group "Caos Totale."
Even though he is strongly identified with the "downtown scene", Swell has been developing his style in the more so-called "traditional avant-garde" arena. Co-leading such projects as "Space, Time, Swing" with Perry Robinson, being a sideman in William Parker's "Little Huey Creative Music Orchestra" and working with other similar people has kept him on this circuit. Dave McElfresh of Jazz Now wrote in a review of drummer Lou Grassi's CD, PoGressions, "Swell's powerful trombone zooms in and out of the music like a plane diving at a target. Players like himself - and music like this - are to be thanked for the revival of interest in the instrument."

---
About Hamid Drake:
Perhaps the city's most exciting percussionist, The New York Times recently raved about Drake's ability to incorporate pattern-based drumming into free jazz. "But," says Chicago Reader critic Neil Tesser, "this skill probably isn't as important to his success... as his deep swing and extraordinary ear for shading and color."
By the close of the 1990s, Hamid Drake was widely regarded as one of the best percussionists in improvised music. Incorporating Afro-Cuban, Indian, and African percussion instruments and influence, in addition to using the standard trap set, Drake has collaborated extensively with top free jazz improvisers Peter Brotzmann, Fred Anderson, and Ken Vandermark, among others. Drake was born in Monroe, LA, in 1955, and later moved to Chicago with his family. He ended up taking drum lessons with Fred Anderson's son, eventually taking over the son's role as percussionist in Anderson's group. As a result, Fred Anderson also introduced Drake to George Lewis and other AACM members. Drake also has performed world music; by the late '70s, he was a member of Foday Muso Suso's Mandingo Griot Society, and has played reggae. Drake has been a member of the Latin jazz band Night on Earth, the Georg Graewe Quartet, the DKV Trio, Peter Brotzmann's Chicago Octet/Tentet, and Liof Munimula, the oldest free improvising ensemble in Chicago. Drake has also worked with trumpeter Don Cherry, Pharoah Sanders, Fred Anderson, Mahmoud Gania, bassist William Parker (in a large number of lineups), and has performed a solstice celebration with fellow Chicago percussionist Michael Zerang semiannually since 1991.
---